"This company did an excellent job at our wedding. We had quite a heavy list of song requests as we included them in our RSVPs. RSL did a great job incorporating them in throughout the night. Our dj Mike was super friendly and really great with keeping everything on schedule. Would highly recommend!!"
Amanda Edwards , Akron OH
"Joe was professional and wonderful to work with start to finish. He was organized and worked very well with Graystone Hall in Akron. Everyone enjoyed the soft cocktail and dinner jazz. When the dancing started it appealed to young and old alike and honestly the dancing never stopped. We would Joe 5 +stars. He was amazing !"
RJR, Akron OH
"The DJ was great. He got out on the floor to teach us dance moves, and kept the guests on the dance floor until it was closing time. I HIGHLY recomment this vendor. I still get compliments on my wedding DJ and its been 3 months!! "
S. Dean, Canton OH Wedding DJ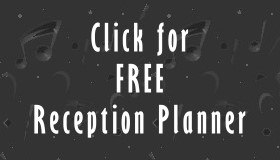 Your Canton Ohio DJ, Akron Ohio DJ and Cleveland Ohio DJ!
If you are a soon-to-be bride, the mother of a bride, or a friend helping that bride, you know you have many critical decisions to make in a short time. The biggest challenge is that most every decision affects the next one. One huge group of decisions revolves around your reception! The cake, food, having enough tables, who manages the bouquet toss and making sure grandma gets to dance with the groom. Relax. Just call Russell Sound Lab at 330-494-9317. With over 25 years of experience, we know how to ensure all those decisions are made, helping you at each step. And with all that experience, there are few others in this business that know what's going on like Russell Sound Lab does. From knowing most all of the local reception halls and their management, to knowing the best florists, caterers, photographers and more, you're on the right path with Russell Sound Lab. We are proud of the recognition that others give Russell Sound Lab; "DJ Music for any occasion!"
When choosing a wedding DJ...
You and your guests deserve the very best on your wedding night. Therefore, you just can't leave your entertainment to anyone. Your Disc Jockey can make or break the evening! If you're looking for an experienced professional disc jockey, then look no further than Russell Sound Lab!
We know what the crowds of today are looking for in entertainment, and it does change from crowd to crowd. You can rest assured that every detail will be covered with precise attention and concern.